Frequently Asked Questions
1. What is Breeze?
Breeze is a credit card processing solution that is PCI (Payment Card Industry) compliant. Breeze is committment-free, so you will never be bound to a contract. Breeze is powered by the same team that brought you OrthoBanc Payment Management.
2. What are some of the advantages of Breeze?
Breeze offers a flat, blended rate with no setup or add-on fees. There are no fluctuations in this rate from month to month, which allows for better financial planning. Even if a customer pays with an expensive loyalty or rewards card, your rate would not change. Additionally, when you switch to Breeze, you will never have to deal with an elusive impersonal call-center. You will interface directly with the Breeze team who will provide first-class support.
Finally, Breeze offers an online portal that allows you to research transactions, view reports, and print receipts with ease.. The portal also features our Virtual Terminal, which has received nothing but accolades and positive feedback from our clients.
3. What are the rates for Breeze?
We ask you to provide us with your most recent 3 months of credit card processing statements. This will allow us to perform an in-depth analysis and obtain the most competitive rate based on your typical mix of business.
Some companies quote an attractive rate, but that rate only applies to non-rewards cards and all other cards carry surcharges that drive your "actual effective rate" much higher.
We quote a flat "all inclusive" card rate so you know exactly what you are paying for each time a card is processed.
We never add hidden or surprise fees. In fact, our statement doesn't even have a place for them.
For a free analysis, please send your statements to merchantsupport@paywithbreeze.com or fax them to 888-758-0587 (Attention – Breeze Team).
4. When will Breeze deposit my funds?
Breeze deposits funding on the second business day for Visa, MasterCard, Discover, American Express, and ACH.
For example, transactions that are processed on a Monday will typically be deposited into your bank on Wednesday.
5. Does Breeze provide terminals?
Breeze offers Ingenico® terminals exclusively.
Why? It's simple; because they are number #1 in the world. Ingenico® is the industry's most trusted provider and is used by many major retailers, including Home Depot®, Walmart®, Cracker Barrel®, and millions of merchants across 5 continents and 170 countries.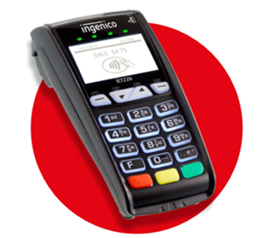 TERMINAL PRICING :
*Taxes and shipping are not included in displayed price.

6. Are the terminals leased or purchased?
Our terminals are purchased and fully owned by you the merchant. We sell the terminals at our-cost without any mark-up.
7. Do you have the swipe dongles that attach to the computer monitor?
No, unfortunately swipe dongles do not meet the security standards of the PCI Security Council.
8. Are the terminals compatible with chip cards? What about contactless forms of payment (Apple Pay, Google Pay, etc.)?
Yes. Our terminals are EMV (chip) certified and also accept Contactless (NFC = Near Field Communication) payments (ex. Apple Pay, Google Pay, etc.).
9. Do your terminals operate on WiFi or Bluetooth?
In 2020 we will be rolling out the new TETRA line of terminals by Ingenico. Each of these terminals will be capable of connecting through your network via Ethernet connection, WiFi, or Bluetooth.
10. What if the terminal breaks or malfunctions?
Terminals have a one-year warranty. If you encounter a manufacturer's defect, our fulfillment center will replace the terminal in the first 30 days at no cost. After the 30-day period, there is a $79 replacement fee. The warranty does not cover customer abuse (i.e. liquid spills, dropped equipment, etc.).
11. How do your terminals connect to my business network?
Our terminals connect via an Ethernet cable (not through a phone/fax line, nor though a USB cable).
Our terminal will arrive to your office connected to a "magic box." On the back side of the magic box, there are two ports (ETH & phone). The Ethernet cable will plug into the "ETH" port. The other side of the Ethernet cable will connect to your office's router/switch/hub.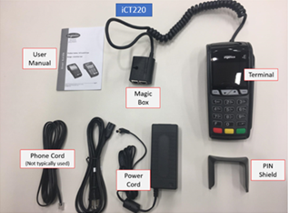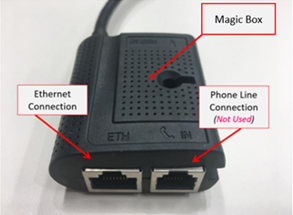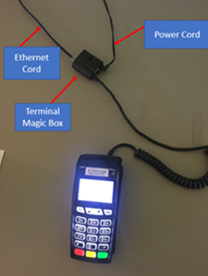 12. Can customers make online payments toward their accounts via Breeze?
Breeze is designed and driven by the needs of our clients. Therefore, we do not currently have a portal for our merchant's customers; however, if enough interest is expressed by our merchants, you can rest assured we'll give it serious consideration.
13. Are there any contracts with Breeze?
Breeze is commitment-free! However, we will have some required paperwork that our team will work with you to complete. You can leave Breeze anytime with a 60 day written notice.
14. Are there any setup fees or monthly maintenance fees associated with Breeze?
There are no start-up costs (other than the cost of terminal equipment you select), and we do not charge any monthly maintenance fees.